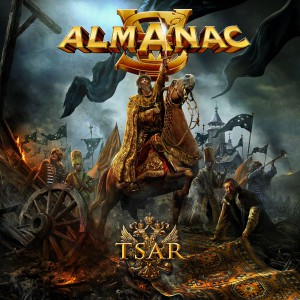 "One of the best pieces of music made by Victor Smolski. It's the next step for the power metal history. Best modern way how to play classic metal style!"
SPARK (CZ)
"This impressive record breathes freedom, yet it is a marriage between classic and metal that really rocks heavily… Kudos for the heaviness, the vocal abundance and the overwhelming guitar skills of Victor!"
ROCK TRIBUNE (B)
"Victor Smolski succeeds again with »Tsar« where power and elegance are no way inferior to RAGE and LMO!"
METAL MANIAC (I)
"Tsar" bietet von Anfang bis Ende Metal (!) ohne jegliche Längen: kompakte Songs mit orchestralem Zierrat und tollen Gesangsstimmen, einen Sack zeitloser Melodien und selbstverständlich überragender Handwerkskunst, die nach einem echten Bandgefüge klingt.
LEGACY (D)
"Ein Power Metal-Feuerwerk par excellence! Ein orchestrales Feuerwerk trifft auf unfassbar abwechslungsreiche Gitarrenarbeit. Die Mitbewerber dürfen sich warm anziehen… Es bleibt nur eine Frage offen: Wie kann Album Nummer zwei das toppen?"
ROCK IT! (D)
"Viel heavier als gedacht – ich hatte mehr russische Folklore erwartet. Komplexe Songs, die trotzdem schnell "zünden". Das Drei-Sänger-Konzept überzeugt dank komplett verschiedener Gesangsstile und Klangfarben. Freue mich schon darauf, es noch einmal in Ruhe zu hören – zu entdecken gibt es ja mehr als genug!"
ROCK HARD (D)
"Sehr bombastische, druckvoll produzierte Platte! Härter als das neue AVANTASIA-Album. Good work!"
HARDLINE (D)
"Mehr "Metal" als erwartet. Experiment mit den drei Stimmen macht die Individualität von ALMANAC aus. Vielseitiges und doch eingängiges Album. Homogene Einheit trotz vieler Individualisten. Ausgezeichnete Produktion. Erster Favorit: 'No More Shadows'!"
METALNEWS.DE (D)
"Fette Metal-Scheibe mit tollen Gesangsarrangements und jenseits von nervigem Symphonic Metal. Enthält viele Überraschungen und keine Füller oder Langeweile. Viele Uptempo-Songs mit fetten Gitarrenriffs gefallen!"
BREAKOUT (
DAVID READMAN – DAVID READMAN
Hailing from Burnley (two minutes from where I live), David Readman is best known as the vocalist who replaced Andi Deris in Pink Cream 69. If life was fair after the release of this, his first solo effort he would be known as a huge star. Sadly I suspect that won't happen because radio and television here in the UK aren't interested in a) rock music and b) artists with real talent. On any scale of measurement David Readman has made a fantastic record. To be fair, the signs are always good when one sees that Dennis Ward is behind the production desk and a veritable who's who of the melodic rock scene playing alongside the man himself doesn't hurt. Without You is the opening song is a contender for song of the year. It races along powered by Frankie Sullivan style guitars and an instantaneous chorus that is truly excellent. A fabulous start to any album. Evil Combination is a bit moodier but with another great chorus whereas Take These Tears is reminiscent of late 80's Whitesnake. Don't Let It Slip Away is a melodic classic in the making and again shows the sheer class of the song writing on this disc. This song is good enough to have appeared on last year's Sunstorm album and that is high praise indeed. No Peace for the Wicked is exactly the kind of song you normally get at this juncture on this type of CD. It is much heavier than anything else thus far and has a more offbeat hook and sounds like House of Lords ' another compliment. Long Way to Heaven rounds off the first half of the album and again has a fantastic chorus that burrows itself inside your brain and refuses to go away. Wild in the City has more 80's feeling to it but with a more contemporary edge and is another key track. Gentle Touch finds Mr Readman in ballad mode, not a sloppy power ballad but a more modern rock one. Prisoner of Shame finds us back in full on rock mode and once again the all round quality on offer is astonishing. New Messia (sic) has a lyric that could well be misinterpreted but is based on a satisfying acoustic groove. Over the Ocean again starts off with acoustic guitar intermingled with what sounds like a Hammond organ and stays in pop mode through its length ' what a versatile chappy Davey Boy is! Love in Vain is the final track and is big ballad that just about creeps into being an epic as it cruises past the five-minute mark. Again the guitar work is understated but highly effective.
This is an almost flawless record that deserves wide attention. A definite contender for Album of the Year.
Jason Ritchie writes:
Pink Cream 69 vocalist David Readman has produced a very enjoyable solo album which will delight lovers of Pink Cream 69 and Whitesnake (Readman does have the odd touch of Coverdale at times in his voice). A very impressive musical cast including band mates Dennis Ward handling production and guitarist Uwe Reitenauer. Joining them are Paul Logue (Eden's Curse/Cry Havoc), Eric Ragno (Vox Tempus/Takara) plus members of Silent Force, Elegy and Vanden Plas. If the opener 'Without You' doesn't get you running around pulling air guitar/vocalist shapes all over the place then you must be clinically dead! What a riff, what a chorus ' this is what great melodic hard rock is all about. The next track 'Evil Combination' keeps the pace going nicely and then we get to slow it down slightly with 'Take These Tears'. A very moving ballad although certain parts of the song sound like Whitesnake's 'Is This Love" Other corkers include 'Prisoner Of Shame' (the Coverdale sound comes through on this song) and 'New Messiah', which is another superlative hard rock tune. The lushly instrumented 'Love In Vain' closes the album in fine style. David Readman has produced a very enjoyable album (with great production as you'd expect from Dennis Ward's involvement) that taps into Pink Cream 69 but for me hits the Whitesnake button more. High quality hard rock form one of the better voices in the genre, buy with confidence!
PINK CREAM 69 – ELECTRIFIED
David Lee Beowulf @ www.ink19.com writes:
It stands for "Pink Cream 69." I have no idea what that means, but I can hazard a few guesses. Anyway, HAIR METAL LIVES! All hail these German Hair Farmers! Hair! Hair! Hair! They're expecting me to believe PC69 recorded these tunes in 1997 and 1998, impossible! Nobody's made music like this in years! The melodic yodeling, the pounding drums, the overbearing guitar solos, it's Saxon meets the Scorpions! According to their press, PC69 aren't too well known in the United States, as this is their first American release in their twelve-year life of hair farming. Yet all those years, this band was dominating the European and Japanese charts. Darn! Had I only subscribed to Metal Hammer I'd be in the know! But all that shit aside, I'll tell you all a secret, the so-called "hair metal," when done right, that is, guitar excellence; clear, powerful vocals; and headbanging percussion, is great. Why? Because it is metal, that's way. All the songs on Electrified are hard-rocking, headbanging, and designed for maximum volume. "Shame," "Stranger In Time," "Break the Silence," "Over the Fire," all of them, are bursting with metal power. Look, hair metal gets a bad name from "rock and roll" bands who grew their hair, simply turned up the volume, and played "love songs." PC69's music has incredible power, great guitar solos, is very fast and, frankly, has a Manowar edge to its lyrics. And just like Manowar, it's clear that PC69 has not compromised the metal music they like to play over the years. Hey, there's a lot to be said of an era, driven by this kind of music, where women wore leather and rhinestone halter tops. Dare to be metal! (And the "ballad" is really a parody of Meat Loaf singing with a cockney accent.)
www.ram.org writes:
In 1995, Andi Deris left Pink Cream 69 to join Helloween and was replaced by British vocalist David Readman. While most would've considered that a loss, at least for the former band, the result was positive for both bands. This is the first lbum I'm listening to with Readman at the helm and I don't know how their previous albums with him compare, but the bands latest effort, Electrified, is, simply put, electrifying. The album goes back to their One Size Fits All roots and features a nice compromise between melodic German hard rock and the mainstream noise pop-rock of today. Comparisons to Helloween are inevitable even though Deris has left, and although the style is reminiscent of German neo-classical metal, but there's more of a rock 'n' roll flavour to this release. The soaring guitar melodies by Alfred Koffler is nicely tempered by Readman's vocals and a strong rhythm section comprising of Dennis Ward on drums and Kosta Zafiriou on drums. Tracks like Shame, Stranger in Time, Over the Fire, and Burn Your Soul are terrific tunes. A worthy addition to any metal collection.
Daniel Hinds @ www.the-plague.net writes:
These Germans have been at it for a while now and continue to maintain a sound that is as catchy as it is horribly out of fashion. PC69 play a very 80s brand of hard rock / AOR, but manage to do it without the usual cheese. First single Shame" starts off Electrified on a good note, featuring a memorable chorus and lots of melody. David Readman has a very clean and powerful voice, while Alfred Koffler delivers some extremely melodic and technical leads. "Stranger In Time" sounds like Crazy World-era Scorpions. The band know how to rock and make the big-choruses sound good, as evidenced on the title track, the arena-rocker "Burn Your Soul" and the near-speed metal "Over the Fire." Of course, the required power-ballad shows up on track nine, "Rocket Ride," with the usual less-than-spectacular results. Is it just me or are the Scorpions the only band that ever consistently pulled off good power-ballads? You might as well shut down the CD player after song eight, actually, as "Best For You" isn't much better and the last track is yet another ballad. Bizarrely, there is a 'hidden' track at the very end, but it is merely the last song over again with the lyrics sung in a silly British accent. An in-joke perhaps guys…? PC69 play with a great deal of confidence and it is easy to tell that they play this style out of love for it rather than any kind of potential monetary gain. If bands like Giant and Bad English had been this good, perhaps I would have paid more attention to this genre and it wouldn't have gone down in flames in the public eye the way it did in the 90s.
www.vibrationsofdoom.com writes:
This hard rockin' group has been around for quite awhile, and though this is my first exposure to them, I must say I was quite impressed with their unique brand of heavier style hard rock. Hard rock, or straightforward heavy metal. Anyway, you have some great guitar riffs, great song structure, and a vocalist that really puts an energetic performance into nearly every line. A few songs on here were rather average, though quite better than most one hit wonder hard rock bands from the early 80's, though you know they must have done something right if Ralph Sheepers does guest vocals on 'Over The Fire.' 'Higher Kind Of Love' is one of my favorite tracks, showcasing great song structure and like many other tracks, great sing along chorus lines and kick ass instrumentation. Even the slower numbers, like 'Rocket Ride,' don't stay mellow for very long. I didn't care much for the piano backing of 'Gone Again,' but there's no denying that this act should make it big and I mean in a HUGE way here in the States. Very accessible and very catchy, heck one of those that maybe SHOULD stay underground. WHY the U.S. version labels them simply PC69 is beyond me though.
Rating: 92/100
Luigi Cisaria @ www.glory-daze.com writes:
Pink Cream 69 came to prominence with their self titled debut featuring the brilliant 'One Step into Paradise'. Two more albums followed before original vocalist Andi Deris left to take up vocal duties with fellow Germans Helloween. In stepped David Readman. PC69 also decided on a change of musical direction towards a modern sound. This change was not welcomed by many fans. With their sixth album 'Electrified', PC69 have returned to their melodic roots, and what a welcome return it is. Combining elements of their debut and third release 'Games People Play', this multinational act has created a superb slice of heavy melodic rock. From the opening strains of 'Shame', with it's soaring guitar lines and power chorus, you are left in no doubt that Dennis and the boys are back with a vengeance. 'Break The Silence', 'Over The Fire' and 'Burn Your Soul' are fierce while retaining the great choruses that are constant throughout this album. Title track 'Electrified' has a cool funky feel. 'Higher Kind Of Love', 'Losing My Faith' and 'Best For You' are strong, mid- tempo rockers. 'Rocket Ride', and the amazing 'Gone Again' showcase PC69's ballad-writing abilities. There are no traces of the previous attempts at a more modern approach. Alfred Koffler delivers a splendid performance on guitar with fist-pumping riffs and blazing solo's. Dennis and Kosta provide their usual solid back beat. The star, however, is vocalist David Readman. What a stunning voice. I could listen to him all day. Andi Deris is a fine singer, but David really does fit the material perfectly. It doesn't matter which register, either high or low, David hits the mark every time. The vocal control is magnificent. Before hearing this album I had heard it was a return to past glories. Well, it's true. 'Electrified' is choc full of standout songs and musicianship. Definitely one of the strongest albums to have emerged in the past few years. Welcome back lads, we certainly missed you.
Rating: 92/100
Luigi Cisaria @ www.metal-reviews.com writes:
A long-time melodic metal band from Europe, which featured current Helloween singer Andi Deris in its early catalog. An apt title for this release, as the band's sound gets beefier and a bit more "electrified." A mix between great melodic metal, and slight shades of European progressive work. Remember– this is the band that backed D.C.Cooper on his solo release, so the experience in styles is there. Vocally, David Readman is a mix between D.C., with the nasty yearnings of Jani Lane when needed. In other words… some damn enjoyable sounds! Disc opener "Shame" is smooth and melodic, and both "Best For You" and the steady flow of the title track are similar. After that, things tend to get a bit nastier… A heavier crunch and slow burn groove highlights "Stranger in Time," and a faster pace moves "Break the Silence"– with "Burn Your Soul" being heavy and fast as well. Cutting notes are the norm in "Losing My Faith," while great vocals and a steady pulse rhythm make "Higher Kind of Love" one of the album's top all-around cuts.A couple of special guests show up in "Over the Fire," as Ralf Scheepers and D.C. Cooper lend a helping hand with the vocal chores. The result is a double-bass rip-fest, sounding very much like Primal Fear, in fact!Good stuff.
Rating: 8.7
PINK CREAM 69 – IN10SITY
PINK CREAM 69 – SONIC DYNAMITE
Bjørnar Bevolden @ www.progressiveworld.net writes:
Pink Cream 69 is back with a new CD and the follow up to the glorious masterpiece Electrified which saw a return to their roots of the classy melodic rock of their earlier albums. This newest release follows in the footsteps of Electrified which implies high class melodic metal. I think Pink Cream 69 has really matured the last years and this process does not seem to stop, becoming one of the leading acts of quality melodic metal. On Sonic Dynamite we are offered a healthy dose of well crafted songs. The guitars are, as always, really heavy, thick and catchy, and Alfred Koffler pulls off one great chop after the other. You got pounding drums and great bass [work] and the mid-ranged vocals of David Readman are clear and powerful. He really shines. The songs are truly awesome, balancing between up tempo rockers to more mid-paced songs to ballads. The melodies come off melodic, accessible and catchy. It took a couple of spins to really get into these songs, but this CD only gets better with each spin, which characterises a quality release. The vocal lines and melody lines just ooze melody and quality, and the bridges and choruses are as good as it gets. This is highly professional! Once again, bassist Dennis Ward has produced their CD and as always the production come off great, with all instruments present. The songs sound really powerful and raw, with depth and heaviness, no wonder this guy is sought-after. Pink Cream 69 has the ability of writing songs without repeating themselves, or without sounding boring, cheesy or dull. The songwriting is very strong and they seem to be in 100% control of what they are doing. Of the songs offered, I can only find one mediocre song, the rest are all of great quality. Fans of Electrified can safely buy this one unheard, as Pink Cream 69 seem to have found their foundation and identity. Sonic Dynamite is a superb, consistent slice of well crafted, mature melodic metal.
Rating: 8/10
Matthew Braymiller @ www.ssmt-reviews.com writes:
Pink Cream 69 have launched a real treat for fans of melodic metal with this disc. The whole thing is thick, rich and heavy. The vocal melodies are leaps and bounds ahead of anything we've heard from PC69 in the past. The guitar work is absolutely stellar. The rhythm and tempo is outstanding track after track. If you only have one PC69 disc in your collection, it needs to be this one . . . but leave room for Food For Thought as well.This disc serves as a perfect follow up to Electrified. The heaviness is stepped up several notches and the blending of the glam elements with the bluesy swingy feeling of Food For Thought is brought off better with a more mature feel to the fit and harmony between the different sound elements. The results of this blending are catchy melodies, big choruses, and chugging riffs that have a slick feel to them. The production on this disc is outstanding and everything is timed with exacting precision. The music is over the top with no weak moments. The melodies are all over the place, swinging and sweeping you through the current of the music.PC69 have grown in their song writing talents to where they are presenting some very polished material here. The play shines and the vocals excel. I don't know if it is a contradiction in terms, but this is classy glam metal. Fans of melodic power metal will want to run out and buy this disc as quickly as they can. The sound will grow on you listen after listen. It is truly Sonic Dynamite!
Kostas " BattleRager " Vasilakos @ www.metaleagle.com writes:
A real dynamite is what the new release from PINK CREAM 69 is! It?s been long since I had last listened to such good hard rock. By listening ?Sonic Dynamite? the gap that was there vanished. All the tracks make you feel the classic hard rock sound. The work that has been done on this album is unquestionably great and very careful. The production, the compositions, the solos on the guitar, the vocals make you urge to move in the rhythm of the music and give all you got. Buy this record with no second thought!
rockindude @ www.homestead.com writes:
Pink Cream 69 is one of those bands I have liked for quite a while. I remember hearing the Andi Deris version of the band and completely falling in love with their music. 'Sonic Dynamite' gives us another great chapter in their story. PC69, like a lot of other bands went through an experimental stage only to find out that they were going back to their roots and to what they do best, making great hard rock music. This album is the second in a row to follow the original formula for success. I will be the first to admit that I really didn't mind their 'experimental phase', but do prefer outings like 'Electrified' and 'Sonic Dynamite' more. 'Sonic' is your classic hard rock album with a pretty heavy twinge. Tunes like 'Seas of Madness' , 'Waiting for the Dawn' , and 'Sonic Dynamite' definitely show this band still has it when it comes to putting punch in the music. 'The Spirit' has a great moody edge to it as a mid-tempo rocker. 'Spread your Wings' slows things a bit and closes the album in fine fashion. One thing is for sure, these guys write great music. This is another album that comes recommended. 12 great songs with great sounding production. Not sure why we have not seen this release domestic, but it is worth checking out on the import version. You'll not be disappointed.
Andrew McNeice @ www.melodicrock.com writes:
OVERALL: 90%
PRODUCTION: 92% SONGS: 88% VIBE: 90% ATTITUDE: 90%
ESSENTIAL FOR: Euro metal fans…fans of the heavier side of melodic hard rock.
It's early in the year, but already Pink Cream 69 look like taking out the best European hard rock album of the year. This is a prime slice of melodic metal with the guys looking to top their highly acclaimed last album Electrified. Not sure if Sonic Dynamite does that, but it's bloody good nevertheless. Opening with the utterly bombastic Seas Of Madness, there is not let up in pace until the only ballad of the album – track 8 – Let The Thunder Reside.The band are as tight as ever, with producer Dennis Ward seemingly bringing out the best in everyone. It's one of those records where everything is turn up to 11. The style is 100% Euro hard rock with the band's sound the traditional overdrive double kick drum / crashing cymbal / pounding bass and big heavy vocal style. Make sense? If not, check out the soundbytes.There are no weak tracks, but my personal favorites are the opening Seas Of Madness – the vocals are huge, Followed By The Moon for it's layered guitar sound and killer chorus and Speed Of Light for it's cool intro.Special mention also for the moody and mysterious final track Spread Your Wings. Huge atmosphere and a real smoldering power. BOTTOM LINE: Euro hard rock & metal fans are always going to embrace this album and I expect it to be at the top of several best of lists at the end of the year, but others should also take a look at these guys. While definitely heavy, they perform at their melodic best and could be a good into to those looking for something with a little more power.
Rating: 90%
Nicky Baldrain (strutterzine) writes:
The new PC'69 was pretty much a surprise to me, because 'Sonic dynamite' is actually sounding quite sensational. This new record of the German melodic rockstars is one of their best ones, and can easily beat the previous records. 'Sonic dynamite' contains perfectly performed melodic (hard) rock and while listening to the CD, I can hear influences of bands like TALISMAN, TAKARA, HAREM SCAREM (their first) and the old EUROPE. This Japanese release features 14 songs (two bonustracks included) and actually all of them sound really terrific. If I had to pick my favourites, I would have to say "Followed by the moon" (lovely classy 80s uptempo melodic rocker a la FAIR WARNING), "The spirit" (quite superb midtempo AOR/Melodic Rock like NORWAY and old EUROPE), "Let the thunder reside" (great melodic rockballad), "Lost in illusions" (another lovely classy 80s uptempo melodic rocker a la FAIR WARNING) and the Japanese Bonustrack "King of my world" (yet another fantastic uptempo melodic rocker, very much like the first HAREM SCAREM, including the stunning harmonyvocals). This new record is a must for every fan of classy 80s melodic rock! Grab yourself a copy of 'Sonic dynamite as soon as possible!
Vesa Nourala @ www.aor-europe.com writes:
This a heavy metal album so not really the kind of music that might be covered here, but I do know that our readers like this kind of music too (Christian, this is for you). I really had high hopes for this album because PC69's last album "Electrified" was so good and the guys did not let me down. This might be even better, we'll see after few more listening times. This is full of great songs like; Seas Of Madness, Followed By The Moon and so on. If one likes good heavy metal this is a must buy for them. I like David Readman's voice very much and in my opinion PC69 sounds better with David than they did with Andi Deris. I bought the special version with different packaging and one extra song and it was worth it. The only thing that bothers me is the cover but who cares if the music inside is great, and this is great music. The songs are well written, the production is well done and I just can't find much bad to say about this CD. I'll give this 4?, not full marks but close.
PINK CREAM 69 – THUNDERDOME
Alex @ www.metal-observer.com writes:
If you look at the history of PINK CREAM 69, then it is pretty impressive by now. Founded in 1987, they released their self-titled debut in 1989 and in the year 2004they have reached studio album 9 with ?Thunderdome? and that with just one line-up change in 1994, from Andi Deris to David Readman, that?s something really rare nowadays, where it sometimes seems as if bands are scrambled together more by chance than anything else and then get marketed as ?supergroup?. With the exception of partly ?Games People Play? and the for this fittingly titled ?Change? PINK CREAM 69 always had stood for best Melodic Metal, very catchy and with great melodies, but never getting shallow and always having enough substance, which makes sure that the listener will enjoy the songs for a long time. On ?Thunderdome? nothing has changed about that, the Germans (with British singer) with the odd name have used the time since their last album ?Endangered? 2001 wisely and recharged the creative batteries. The intro ?The Last Stance? got some surprised looks, but as soon as the real opener ?Thunderdome? sets out, everything is ok again, the typical PINK CREAM 69 sound is back. And what the great thing is, the trademarks are all back, but without them repeating themselves! That David Readman has a very strong voice that also can bear a song and additionally sounds pretty original, too, should already be known fromPINK CREAM 69 and also ADAGIO and on ?Thunderdome? (the album) he presents himself in absolute top form. The following ?Gods Come Together? is even among the best cuts that PC 69 have ever released, quite fast, melodic, with a great, absolutely irresistible chorus, which still haunts you hours later. That they ever since had been writing great ballads is quite well known by now and ?That Was Yesterday? confirms this once more, just like ?Shelter? is a first class Rocker. Cool is also the cover version of the THE KNACK classic ?My Sharona? (quite close to the original, but still just as good as the version by ELDRITCH), guaranteed grooving! And on ?As Deep As I Am? even reading the lyrics (or in my case here exact listening) is worth it, because here they put a nudge towards all those ?sought super stars?, again in a super catchy Melodic Metal song in the typical and good PC 60 style! It?s good to see that a band even 15 years after the debut still is staying true to its sound and also has kept up the quality and makes everything sound fresh and energetic. PINK CREAM 69 are one of these bands and also anno 2004 a guarantor for very good Melodic Metal that a fan of this style should absolutely have! (Online February 29, 2004).
Rating: 9/10
Chris Lambert @ www.rockreport.be writes:
Can't remember how many years ago it was that we had such a fantastic start as we have this year. Indeed, ladies and gents, this 'Thunderdome' is yet another quality release that will reach many 'best of 2004′ lists at the end of this year. Mark my words!' Thunderdome' is the follow-up of 'Endangered', which was released by Massacre Records in 2001. Whenever a band releases an album, a tour normally follows, but that wasn't the case after this release, because the band was unable to perform live due to Alfred Koffler's injured hand. When Koffler suggested to tour with another guitarist, the others refused unanimously. In 2003 Pink Cream 69 played as a quintet for the first time, reinforced by Uwe Reitenauer to relieve Koffler. This (live) six stringer got his baptism of fire at the Bang Your Head festival, where he played in front of thousands of fans. 2004: a new label, a fantastic new album and a new (German) tour with co-headliners Axxis in March. But let's concentrate on 'Thunderdome', which took the quartet over two years to complete. Guilty for that was Koffler's persistent hand condition. Diagnosed with Focal Dystonia (whatever that may be), he contributed his share to the new album under aggravating circumstances. Don't worry however, as it motivated Koffler so much that he performed more brilliantly than ever. Just like Rick Allen (Def Leppard) Koffler is one of those few artists who commands respect from all of us. But back to 'Thunderdome', which once again shows how great a team of songwriters can be. Readman, Koffler and Ward (a brilliant producer, as you may all know by now) have come up with nothing else than catchy songs, with lyrics that mainly take a critical look at all those TV programs that search for so-called one hit wonders (Idol, World Idol etc.). Listen to this albumand you will hear the difference between 'real' and 'fake'. For PC 69, identity is so much more important than image and skill will always precede commerce. 'Thunderdome' can count as (another) proof for that. Mature and diverse as it is, it's maybe the best album this foursome from Karlsruhe have released since they came to the surface in 1987. This really is the kind of album you can and will play again and again. Anthemic tracks ('Thunderdome', 'Gods Come Together', '), powerful rock songs ('Carved In Stone', 'Shelter', 'See Your Face', '), an excellent power ballad('That Was Yesterday') and even a surprising cover (The Knack's 'My Sharona'): you name it, they deliver it with an unequalled enthusiasm. If you're into gritty riffs, virtuoso solos or whatever, rest assured you can find it here in all its glory. Like I said at the beginning of this piece, this is yet another early highlight of the year and the good thing is, that you can find it in your favouriteshop as of tomorrow. Get that ass up and buy it pronto, you won't regret it! Go see them live (with Axxis) if they arrive in your neighbourhood
Cora @ www.morrigans-pit.org writes:
Maybe some people will wonder how I come to review a Pink Cream 69 album. The answer is simple: nostalgic reasons 😉 In the early 90s when I started listening to hardrock and metal, Pink Cream 69 were one of my favourite bands and I'm following the band's career ever since. The band had ups and downs and I don't want to go into details here now as it's not really relevant for the review of " Thunderdome". Still I feel like saying that the band temporarily lost me when David Readman joined the band and the first two albums with him were not much to my liking. But the last three albums contained some of the finest hardrock/melodic metal that I own (my collection in that field is quite limited though) and I do like these albums much more than anything else they've done before. The same goes for "Thunderdome" even though I consider it weaker than the milestones "Electrified" and "Sonic Dynamite". Starting off with the intro "The Last Stance" that is welcoming us to the Thunderdome, the first song and title track "Thunderdome" lets us immediately recognize which band is playing there: Pink Cream 69 may not have invented something new with their new album, butthey have their very own sound. If you like the last few efforts of Pink Cream 69 you are guaranteed to like this one also. I pity the fact I had to notice the Pinkies are starting to copy themselves a little on this album. The smiliarities between the third track "Gods Come Together" and "Seas Of Madness" (from the "Sonic Dynamite" album) are a little too obvious for example. There are a few more melodies that sound familiar but all in all it doesn't bother me too much as the songs certainly are very enjoyable. Something I cannot say about the cover "My Sharona" (originally by The Knack): it's an annoying song that I prefer to skip. With "That Was Yesterday" you will find the obligatory ballad on "Thunderdome". It's quite a nice one featuring a piano and of course David Readman, definitely one of the best singers in the genre and probably even one of my favourite singers. The album closes with another fine track, "See Your Face". I can warmly recommend this one to all Pinkies fans, you can buy this album blindly. For everybody else, check out tracks like "Gods Come Together", "Carnaby Road", "Retro Lullaby", " Another Wrong Makes Right" or "See Your Face" (or any other track of the album except the cover tune) to get an idea about how Pink Cream 69 sound like.
Rating: 4.5 / 5
Andrew McNeice @ www.melodicrock.com writes:
Fans of European melodic hard rock need look no further for a contender for album of 2004 than Pink Cream 69's newie Thunderdome. The guys know what works for them and what works for their fans and Thunderdome is simply a combination of those two things.This is loud, in your face and pumped up hard rock with attitude. This amazingly is their 9th studio release. Their previous best – in my humble opinion – was the brilliant Sonic Dynamite, with their last album endangered not quite topping its predecessor. But now the band has done just that and along with Sonic Dynamite, Thunderdome will rank as two of their best albums. It will be down to fan preferences as to what the majority think, but personally speaking I have found Thunderdome to be their most enjoyable album to listen to and review.Vocalist David Readman is in fine voice and as usual the production by bassist Dennis Ward is close to flawless.The guitar work from Alfred Koffler and Uwe Reitenauer is as powerful and hard hitting as ever and Ward along with drummer Kosta Zafiriou provide the foundation to the band's uncompromising andincreasingly copied sound.Whether it's on the hard hitters like Thunderdome or the darker That Was Yesterday and Retro Lullaby, or the high octane rockers like Here I Am, the band deliver the goods.Changing the pace a little is That Was Yesterday – a great rock ballad in the best tradition of the band and features a great chorus hook and a strong lead vocal. Shelter is also a very commercial track that features a big hook and catchy singalong chorus.And for the record, I personally hate the song My Sherona and would be happy to never hear it ever again as long as I breathe. But the band has PC69'd it and true to form, it rocks hard and is a lot of fun. Still, I'll continue to skip over it each time!
The Bottom Line
Pretty simple – great songs, great production and some very memorable hooks and song melodies. A great performance just makes these elements even better and will easily impress fans of the band. There's a good chance after all these years the guys might even gather some more new fans.
Rating: 94% – Songs: 92%, Sound: 96%
Marty Dodge @ www.blogcritics.org writes:
Purveyors of Scandi-rock for almost 15 years, this lot have it on all cylinders with their latest release. I find it hard to believe that many other bands will be able to top this wonder twelve track affair. Even their cover of My Sharona, which is nothing special, does not detract from a bloody good album. This is as good as the recent album from Harem Scarem and has laid down a marker to the new releases from Velvet Revolver and Brides of Destruction, who will peddle a similar type of hard rock. Thunderdome is what the rather good, but not perfect, new Skin Trade could have been. From the thundering title track through to the equally good 'See Your Face', PC69 have delivered the goods. They even have a rather nice ballad in the form of 'That was Yesterday'. Do yourself a bloody favour and get yer mitts on this disc. It is has set a pretty damn high marker for my album of the year.
Rating: 5
Keith Bergman @ www.theweekinmetal.com writes:
I'm afraid my decade of ambivalence about this melodic hard rock band may be coming to an end. What I've heard from Pink Cream 69 has always been decent, if somewhat formulaic and forgettable ' the kind of glossy hard rock that's just a shade too 'rock and roll' to be big with metalheads, and too heavy and dated-sounding to make headway outside the AOR cultists who worship every move made by the likes of Bob Catley, Glenn Hughes and whoever's still in Marillion. Or maybe my American ears just didn't give their super-melodic, unfashionable-in-the-States sound a chance' I'm really liking Thunderdome despite myself ' these are some irresistible songs, with hooks that bury themselves in your head and refuse to leave. 'Carnaby Road' is exquisite, 'Gods Come Together' is surprisingly heavy (by their standards anyway), and 'That Was Yesterday' would have been a monster summer hit in America in 1988. That sense of dated-ness is going to be why this band remains a cult thing in the US, but (and this might just be my old age talking) what's wrong with sticking with a sound if you're this good at it' These are fantastic songs, produced impeccably and performed with style and class. I coulda done without the 'My Sharona' cover, but pretty much everything else is top-notch hard rock that, fashionable or not, is flawlessly done. I may be kicked out of metal for saying this, but Pink Cream 69 are pretty kickass! Now if you'll excuse me, I have a Pretty Maids fan club meeting to get to…
Rating: 8 out of 10
SSison and Rowan @ www.allaccessmagazine.com writes:
After a two year hiatus German AOR rockers Pink Cream 69 return with their latest offering, "Thunderdome". This time around the boys have put together what could be their best release to date. Dave Redman's vocals are smoother that ever and Alfred Koffler's guitar is aS potent as a vipers venom. With songs like "Last Stance", the melodic AOR gem, "Shelter" and the tribal groove of the title track. Pink Cream 69 return to the formula they used on their 'Electrified' and 'Sonic Dynamite' releases. It just amazes me that rock radio here in America hasn't picked up on Pink Cream 69. This is one CD that will, and has been, getting serious playing time on my CD player. If you're into bands like, Hardline, Scorpions and Firehouse, this is one CD that comes highly recommended. A ESSENTIAL
Hashman @ www.revelationz.net writes:
Its been fifteen years since these guys inked a deal with CBS Records (now Sony) in the late eighties, and for such a band that at the time had strayed enough distance from the stereotypical 'hair metal' scene of the time, it was the wrong place at the wrong time. They fit in the category along with McQueen Street, Fifth Angel, and Shark Island (remember any of them') among others, who had brought forth melodic straight forward metal, but with lack of support from record companies who saw too much of the image conscious cottage industry along with the changing times in the early nineties with the alternative rock explosion; Pink Cream 69, was another band that had put the musicianship first, being an unfortunate casualty to image and 'product' over substance. But make no doubt about it, fifteen years on into the new millennium, this band still rocks on with a complete heaping serving of melodic metal, complete with all the classic connotations, precise metallic guitar riffs, from Les Paul Crunch to Stratocaster jangle, and the vocals of David Readman (who replaced Andi Deris, who left in 1994 to join Helloween), offering a clean falsetto to give this record the 'vintage' metal vibe that we all have grown to love. Bringing forth the songwriting filled with anthem choruses and hooks that remain the key to creating such powerful cuts like 'Carnaby Road' and the title cut, as well as dark cuts that haunt the otherwise bright mood of this recording, found in tracks like 'Here I Am' and 'As Deep as I Am,' not to mention more pop metal related cuts like 'Shelter.' Of course there are ballads, like any melodic metal release, with 'Retro Lullaby,' where the title should say it all, but still remains on the heavier side when you compare it to the emotional neo-acoustic 'That Was Yesterday.' If you looked at the tracklisting, you will also notice that there is a cover of 'My Sharona,' showing that these guys have respect for the new wave movement, which was the metal counterculture of the eighties (probably the lowest point on the record, but fails to ruin the overall vibe). When comparing these guys to other bands, look at the bands listed above, or some of the more visual bands like Harem Scarem (early records), Extreme, and Winger's Pull record (you know, the post-cheese album that they did that was actually great); making for the sound that should have been in the mainstream when all else had failed to please fans of real rock and roll/heavy metal. Thunderdome itself is a great record, brining back the basics of Melodic Metal.
Rating: 7.5/10
Rob @ www.stickman-radio.com writes:
If you want your rock done right you don't have to look any further! Pink Cream 69 is not a new band but an already established band in the hard melodic rock world. "Thunderdome" is the latest release from this band. "Thunderdome" is a monsterous album! Hard and heavy guitar riffs layed on drum and bass lines that will rock you where you stand! The CD starts off with a sonic boom with it's title track. It is hard for me to actually pick songs out here because every song is a powerful piece of work. They the large sounding riffs and fierce vocals combination down to a T. Even though singer Readman doesn't resemble David Coverdale in style, "Thunderdome" gives me the same vibe I get when I listen to the Coverdale/Sykes era of Whitesnake as well as the first album from Wicked Sensation. Their cover of The Knacks 'My Sharona' is a great rock version of this classic. "Here I Am" & "Gods Come Together" are very memorable songs as are "Retro Lullaby" & "Shelter".
Great CD for all hard rockers!


Rating: 5/5
www.metal-reviews.com writes:
PC69 continues along with their very consistent career, bringing us more solid & edged melodic metal. British vocalist David Readman, who has been with the and since 1994, is one of metal's more underrated on the mic; he displays great range and clarity, with plenty of bite when it's needed. This album boasts a particularly strong first half before easing off a bit. The title track is a good opener, and the edged guitar work and strong chorus of "Gods Come Together" make it a top spot. The chunky swagger of "Carnaby Road" is a winner, with other good cuts being "Here I Am," "Shelter," "Retro Lullaby," and "Another Wrong Makes Right."
Rating: 8.3