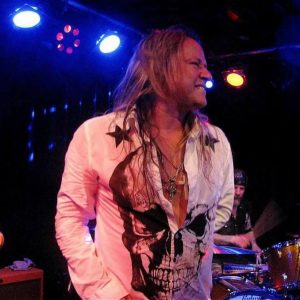 David Readman
Singer of Pink Cream 69, Voodoo Circle, Tank and solo!
David is from the UK but has spent the last 20 years in Karlsruhe Germany, Recently David moved to Tilburg in Holland. Born in Burnley, a small northern town in England, David hails from a family steeped in the history of coal mining. As most northern lads of his age, his future in a way had been earmarked. However, with his family having a musical background, his mother also singing and his Grandmother playing piano, there was always a chance that David could adopt some of their talent.
I'm on the video set of my upcoming single "SHELTER FROM THE STORM" out on the 02.04.21 from my second solo album "MEDUSA" You will be able to order a physical CD or stream it on on spotify, Apple, Amazon etc. Were working hard to finish the final cut of the video for more teasers on youtube and facebook.
Having left school at the tender age of fifteen, a succession of jobs followed. However, young Master Readman had already been bitten by the musical bug and formed various bands like ALANDER, SIXMYTH, SPLATTERPUNK and cut his "live" teeth playing the local club circuit. At age 19, unfulfilled promise led him to Nelson and Colne Music College in 1989 where he ÅÅlearned the basics of what was required to become a professional singer. Two years later, it was was time for the hungry Readman to find a real band. However, it wasn't until during a camping trip where he sung some LED ZEP songs a friend said "Man, what you doing, you should be making records". That was it, David now had the belief and the fire in his belly required to succeed in the music business, and spent the next few months sending a barrage of demos tapes in response to adverts for singers in the cult UK magazine Melody Maker.
It wasn't long before he received calls from throughout the UK. These would eventually lead to auditions and jobs with Adrian Smith (IRON MAIDEN), then solo, Thomas McRocklin (VAI-like virtuoso) and a move to London with MISHA CALVIN, who would later release the demos without David's consent. The 17th June 1994 is the day that David's life, as he knew it, would change forever! He flew to Germany for an audition with European Hard Rockers PINK CREAM 69, who's vocalist Andi Deris had left to join HELLOWEEN. David was successful in his audition and felt that at last he had discovered the band that he had so long craved. PINK CREAM 69 were also a band that his talent undoubtedly deserved! Things moved so fast for David with the signing of a record contract with Sony Music in November '94 and a trip to America only a couple of days later to record his first PC69 record "Change" with in California.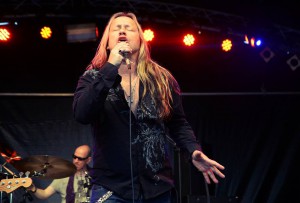 The quartet returned to Germany at the tale end of January '95 and immediately set out on the road for David's first headline tour. THUNDERHEAD accompanied on what was was a crazy time and a long way from Burnley! A procession of records quickly followed – "Food for Thought", the "Live" CD and then the highly acclaimed "Electrified", a return to the bands hard rocking roots. This record began to open doors again for PINK CREAM 69, that many declared they had shut with the change in direction on their appropriately named "Change" album! Success in various quarters arrived with the single "Shame" and a European Tour with IRON MAIDEN vocalist Bruce Dickinson followed, where David would again be reaquainted with Adrian Smith. June 1999 saw the band flying 14 hours to Japan where they experienced an unforgettable four days playing Tokyo and Kawasaki. David barely had time to pinch himself when in 2000 the band released their next record "Sonic Dynamite", again to critical acclaim, and were off to Sao Paulo in Brazil for the first time. This would become a great year for touring with a co-headline tour with AXXIS also under their belts. David then met Stephan Forte at a concert in France, and a partnership commenced in the studio. PINK CREAM 69's EP "Mixery" was recorded in-between, which meant working with ADAGIO through the day, and then recording "One Step into Paradise" at night sessions at House of Audio Studios Karlsdorf. The end of June 2001 saw the release of their first collaboration, under the name of ADAGIO, the "Sanctus Ignus" CD. "Endangered" would become David's fifth studio album with PINK CREAM 69 in 2001 and carried on where "Electrified" and "Sonic Dynamite" left off. David was now firmly turning heads on a regular basis with emotional and soulfull performances and was now highly regarded as one of Europe's finest rock singers! Work continued to emerge with various projects, mainly assocaited with David's Bass playing colleague and Producer Dennis Ward. In November 2002 MISSA MERCURIA, a Rock Opera, was released in Germany. David played the part of the narrator and sung on three tracks on the record. ADAGIO's second album "Underworld" was released in November 2003 whilst PINK CREAM took a long break, mainly due to health issues with their guitarist Alfred Koffler. Koffler thankfully recovered and in 2004 "Die Pinkies" returned with arguably their finest release to date in "Thunderdome".The citics went wild and the album featured in many an "Album of the Year" category throughout Europe. David put in some of his best performances ever captured on record, none more so than the self penned hanuting ballad "That Was Yesterday". In the beginning of 2004 David participated in his first tour with ADAGIO, covering the whole of France and Belgium and two weeks later, at the beginning of March 2004, would immediately set out on the road with PINK CREAM 69 in support of the "Thunderdome" album.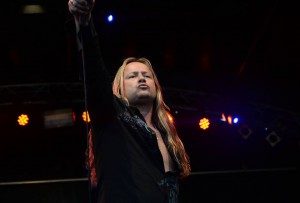 The tour kicked off in Obermarchtal, Germany on 5th March 2004 and proved to be a gruelling schedule for David and his voice. Both came through unscathed! David and ADAGIO soon announced their decision to part amicably and is now planning the release of his first solo record. The songs have all been written and plans are well underway to making that dream a reality! Having heard some of the demos it's safe to say that fans of PINK CREAM 69 and David Readman will not be disappointed when this material sees the light of day! With gigs in Italy, Germany, USA and a first appearance in England for David with PC69 and The Gods, 2005 looks like being every bit as good as 2004 for the multi talented David Readman and the very underrated PINK CREAM 69. For all those of who have yet to discover the wonderful talents of this amazing singer and his delightful band – "Shame on You" !!!! Source: Paul Logue (February 2005) Frontiers Records is pleased to announce all details for the release of David Readman's self titled debut album on August 31. Best known as singer for PINK CREAM 69, David also appeared on album from ADAGIO and from studio projects such as MISSA MERCURIA and on the more recent ANDERSEN / LAINE / READMAN CD.After David left the French Power Metal outfit ADAGIO in 2005, he started to gather material for a solo album which has always been his ultimate dream. "I did a lot myself from writing the songs, to recording organizing the whole thing" says David, "Dennis Ward (David's band mate in PC69) recorded the drums over 2 sessions and also mixed the record. If I was to thank something it would be the Internet, strange I know but without?it would have taken even longer. And I wouldn't have met all the great people who played on the record, especially Paul Logue (of EDEN'S CURSE) who played bass and wrote 2 songs with me." David has worked hard on the songwriting. He explains: "There are a few songs that wouldn't have made it on a PC69 CD because of style, with this record I was able to experiment a little. When you work this way it becomes your baby, you're making all the decisions. It's not always easy to keep a song interesting from the start to the finish. So that was a lot of work, but that's what I wanted." Recording started already during 2006, but David needed a long break (for the recording of PC 69's latest opus "In10sity"), so that resumed the work in February 2007 and finally delivered the album in the spring time. "I am very happy with the record, it was a big deal for me a real learning-curve. I'm also interested to hear what the people have to say about it, I'm very inpatient", concludes the Burnley-born British singer. The line-up appearing on David Readman includes Paul Logue (EDEN'S CURSE) on bass, Dirk Bruinenberg (ELEGY) and Chris Schmidt on drums, Eric Ragno (ex-TAKARA) and Guenter Werno (VANDENPLAS) on keyboards and Alex Beyrodt (SILENT FORCE), Gerald Saenger, Tommy Denander and bandmate Uwe Reitenauer on guitars. David also plays guitars and keyboards. Production duties are handled by Dennis Ward. Tracklisting includes: "Without You"; "Evil Combination"; "Take These Tears"; "Don't Let It Slip Away"; "No Peace For The Wicked"; "Long Way To Heaven"; "Wild In The City"; "Gentle Touch"; "Prisoner Of Shame"; "New Messiah"; "Over The Ocean"; "Love In Vain". "Don't Let It Slip Away" (bonus multimedia video track which can be already watched on the Frontiers Records MySpace page. It's safe to say that fans of Pink Cream 69 and David Readman will not be disappointed with this record, who sets the style in Melodic Hard Rock, with soaring hooklines and in-your face guitars. Don't miss David Readman in all fine shops on August 31 on Frontiers Records with a release in Japan scheduled on King Records. Source: Frontiers Records (June 2007).
ALMANAC 2015
Victor Smolski's new band, ALMANAC, will release their debut album called »Tsar« on March 18th, 2016 via Nuclear Blast Records. Victor Smolski himself was responsible for the production of the record. Mixing was done by Sebastian "Seeb" Levermann (ORDEN OGAN).
The cover artwork was created by famous Hungarian artist Gyula Havancsák (WISDOM, ANNIHILATOR, TYR, DESTRUCTION, ELVENKING,…)
Mastermind Smolski commented on it:
"»Tsar« is the absolute best of and the highlight in my musical career. I had never so much fun during producing a CD. Incredible teamwork and a hundred per cent merciless. Push the pedal to the metal!"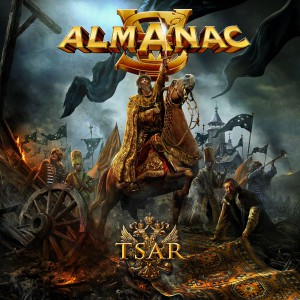 Pre-order NB-exclusive editions here: http://geni.us/AlmanacTsarNB
For all the members of ALMANAC, »Tsar« is a new, exciting, and very interesting chapter. Traditional power metal in conjunction with bombastic orchestra sound and world music with a modern sound all make ALMANAC a compelling and absolute listening experience. The Belarus-born guitarist Smolski is joined by the Orquestra Barcelona Filharmonia.
Fans with an interest in deeper subjects including history and culture will also be able to dive into a new world with »Tsar«, which combines historic and modern parallels that will surprise many. From the warlike nomadic horsemen in the steppes of Russia, to the tsardom, Ivan the Terrible, warlike Cossacks who dominate the Tatar, the siege of Constantinople and the Mongol invasion are stories about battles, wars, intrigue, conquest, terror, power and love that can be heard vocally using the different styles of the singer's voices.
More on »Tsar«:
ALMANAC Official Youtube Channel:
https://www.youtube.com/c…/UC3Cl8YfVLLr_ekHX8msUdeQ/featured
The band played recently at Winter Masters Of Rock in Zlin, Czech Republic. Watch a documentary about ALMANAC's trip here:https://www.youtube.com/watch?v=cCuDihyBHtI
The tracklist of »Tsar« racks up as follows:
01. Tsar
02. Self Blinded Eyes
03. Darkness
04. Hands Are Tied
05. Children Of The Future
06. No More Shadows
07. Nevermore
08. Reign Of Madness
09. Flames Of Fate
David left ALMANAC in 2018 after all the lies!